Events
June 16 - Guest speaker at the Kennebec County Democratic Party Committee
June 17 - Will meet and greet at the Gardiner Riverfest
July 14 - Will March in Hallowell Parade
July 27 - Schedules to speak at the Knox County Democratic Party Committee
Aug 27 - Oxford County Democratic Party Picnic
Aug 30 Bates Mill, Lewiston, Candidates Forum
Sep 10 - Will speak at the Franklin County Democratic Party Committee, Fairfield
Sept 12 - Will speak at the Penoscot County Democratic Party Committee, Bangor
Sept 28 University of Maine Augusta, Candidates Forum
September 28th - 6:30-8PM at the University of Maine at Augusta 6:30-8PM
Democratic Candidate Forum
On Monday, we testified on LD1211: An Act to Amend the Laws Governing Legislative Political Action Committees. This bill would ban legislators from controlling their own so-called 'leadership' PACs. Maine voters set low contribution limits for privately-financed candidates, because they don't want any one individual or special interest to have too much influence over their representatives. When legislators maintain their own PACs, taking unlimited contributions from any source, it's a mockery of those contribution limits, and ignores what Maine people want to see from their leaders. It was great to see strong support for this bill from the public (thanks Cush, Carol, Tim, and Linda for your testimony)! See news coverage here. Check out our fact sheet on leadership PACs here.
On Wednesday, we followed the work session on LD413, the ban on lobbyist contributions. There was a complex process involving last-minute amendments, which unfortunately left the bill with a majority Ought-Not-to-Pass. We thank Representatives Hickman and Casas for standing strong in support of the bill. I'll post the full committee vote once members have a chance to register their vote. The bill will likely still have a floor vote.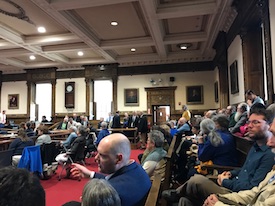 On Thursday, the Maine Supreme Court heard oral arguments on the solemn occasion request on Ranked Choice Voting. It was a fascinating debate, with a packed court room and overflow rooms. You can hear the arguments here, or read coverage. We expect to hear decisions from the justices within the next couple of weeks.
Ongoing priorities: We continue to wait for LD300, which would eliminate the gubernatorial program from the Clean Election statute, to come in front of the legislature for a full vote. We strongly oppose this attempt by Clean Elections opponents to undermine our law. We are also still waiting for a committee work session on LD1033, which we oppose because it would eliminate 24-hour reports, harming transparency and disclosure. There is still time to contact your lawmakers on these bills!